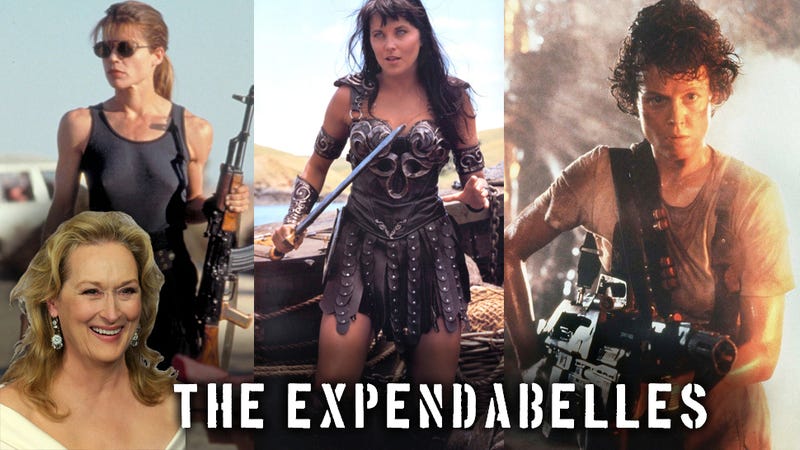 Sorry, I just threw up in my mouth a little bit. Now don't get me wrong, I'm all about chicks that kick ass, but like, it's a bit insulting that an all-female action film has to be a spinoff of a lame-ass franchise like The Expendables. And now Meryl is rumored to be in "talks" to appear in it? Seriously, WTF?!
Listen, as a woman, there's just like so much about this that seems wrong. To begin, I'm thoroughly offended by the title ExpendaBelles. It takes "tacky" to a whole other level. To add insult to injury, this female Expendables spinoff will be written by the team behind Legally Blonde. Bitch, please!
The only way I see this being anywhere close to badass enough for me to give a shit about is if they get the casting absolutely perfect. I'm talkin' Linda Hamilton, Lucy Lawless, Milla Jovovich, Lena Headey, Chloe Moretz, Maggie Q, Summer Glau, Uma Thurman, Sigourney Weaver, Geena Davis (Long Kiss Goodnight, c'mon!), Brigitte Nielsen, Lynda Carter and Pam Grier. Ex-MMA star Gina Carano and Battlestar Galactica's Katee Sackhoff are allegedly already signed on.
According to Deadline the film seeks to show "the feminine side of the mercenary business." Sorry, I just threw up again.
---
For questionable humor and more random happy stuff, hit me up on Twitter and Facebook.