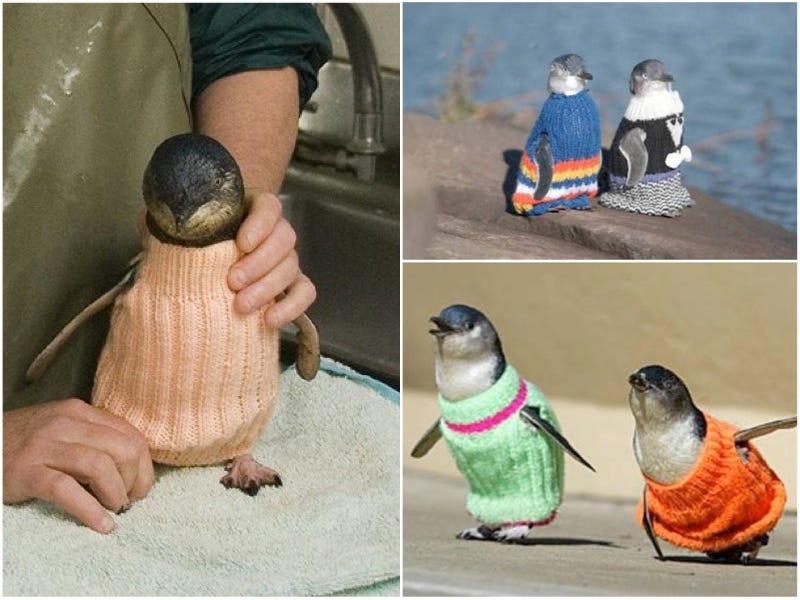 ABC Melbourne is reporting on the cutest global call-to-action ever: Knitting sweaters for penguins. The Penguin Foundation is requesting knitted sweater donations for penguins in rehab. For penguins covered in toxic oil, the sweaters will keep them warm and prevent them from using their beaks to clean the oil off.
Knitter Lyn Blom is the receptionist at Phillip Island Nature Parks in Victoria and has knitted many penguin jumpers over the years. The Penguin Foundation is based at Phillip Island, which is known for having a large penguin colony. Lyn Blom says it's not just major oil spills that cause problems for local penguins. "Fishermen might clean out a container or something while they're at sea," says Lyn. "It's a continuing problem," she says. "We get probably about 20 birds a year." One advantage of knitting a penguin sweater is that they are small. "They're very quick," says Lyn. The Penguin Foundation also distributes the jumpers to other wildlife rescue centres where needed...While the Penguin Foundation's website says it currently has a 'good supply' of the little jumpers, the organisation also uses them in educational programs as well as selling them as a fundraising measure. In 2011 the foundation raised money for a new Phillip Island Wildlife Rehabilitation Centre which can house up to 1500 penguins in the event of a major oil spill. - ABC Melbourne
Download more information here as well as a knitting pattern and where to send the sweaters.
File Under: AWWWWWW!
For questionable humor, movie rants and random happy stuff, hit me up on Kinja, Twitter and Facebook.